OUR INSPIRATION
Jesus, the Good Shepherd
VISION
Arise to Wholeness
ACTIVITIES OF FIDES
● Awareness sessions
● Counseling
● Skill Training
● Capacity building
● Talks and group sessions
● Seminars
● Family visits
● Exposure visit
● Medical camp
● Prayer meetings
● Net working with other NGOs
● Running of crèche for infants

More+
NEWS & EVENTS
YOUTH MEMBERSHIP DAY – Bandapura
On 29th August 2021 FIDES had organized Membership day for the youth of Bandapura. Around 20 youth gathered at FIDES at 2:00 P. M. the event began with a prayer by Sr. Venilla. In order to make know the Auxilium youth FIDES to the new comers, the office bearers introduced the aim, goal and the activities carried out in the year 2020 – 21. Introduction about the youth was presented by Ms. Vandana, welcome speech by Ms. Pooja, activity report of 2020-2021 by Ms. Varsha Veronica and treasurer's report by Ms. Keerthana.

In order to know each other we had Ice break by Mr. Bennadict Roy. Later all the youth enrolled and promised to themselves to always give their cent percent effort to their youth group.

It was followed by the election of new Leaders . Sr.Venilla and the other youth thanked the old leaders for their immense support and dedication towards youth group. New leaders were elected by the Co youth, names of the new leaders as follows

President: Ms. Haripriya .
Vice president: Ms. Jabakani.
Secretary: Ms. Vandana.
Joint secretary: Ms. Keerthana.
Treasurer: Ms. Pooja.
Joint treasurers: Ms. Shruthi and Ms. Varsha Veronica.

The local executive team and the other youth took oath led by the new President Ms. Haripriya, promising to walk towards fullness of life and become catalysts of personal and social transformation. Ms. Keerthana thanked all for being a part of the day and then the youth dismissed.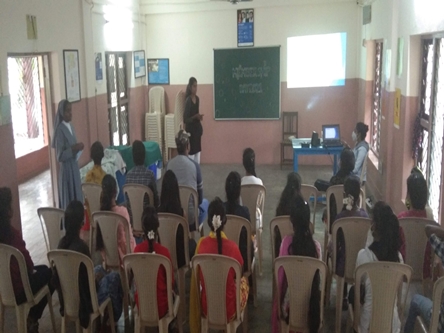 Back