OUR INSPIRATION
Jesus, the Good Shepherd
VISION
Arise to Wholeness
ACTIVITIES OF FIDES
● Awareness sessions
● Counseling
● Skill Training
● Capacity building
● Talks and group sessions
● Seminars
● Family visits
● Exposure visit
● Medical camp
● Prayer meetings
● Net working with other NGOs
● Running of crèche for infants

More+
NEWS & EVENTS
Report of the social cause programme -2017Back

Wherever a man turns he can find someone who needs him. – Albert Schweitzer

Social responsibility is s an ethical framework and suggests that an entity, be it an organization or individual, has an obligation to act for the benefit of society at large. Social responsibility is a duty which, every individual has to perform so as to maintain a balance between the economy and the ecosystems.

4 November 2017 was a memorable day for the student support programme beneficiaries to engage and learn the realities of life in different atmosphere. This programme was intended to make a new learning and to strengthen the sense of responsibility of the growing children regarding the care and concern to be given to the parents, destitute and the people in need.

Bill Clinton said, "we need to help younger people recognize their own capacity to do good, and help them discover the rewards of generosity". When we compare this statement with the programme initiated by the students supporting team, it is visible that the programme on rehabilitation for the abandoned and elderly has widened the horizon of the students on the process and the needs of rehabilitation.

The programme on rehabilitation was done by the students, dividing them into groups and areas. There were 8 groups and each group was consisted of 6 to 7 members. The areas focused were Marthahalli, KR Puram, Shivajinagar and Sarjapur. The volunteers of this programme were assigned an obligation of visiting the street and town areas to find out the destitute and the abandoned. The participants marked the details of the people to be rehabilitated. According to the survey, it was found that more than 8 people are in need of rehabilitation and the visit also provided a space to meet many abandoned people but few were not ready to be rehabilitated. The experience provided an insight to the participants through the rehabilitation programme to be responsible to each other without any discrimination based on caste, colour, language or religion. This initiative was done with a focus that the life is a Gift from God and all should enjoy the fruit of it. This programme also paved the way to an awareness that everyone should be cared and loved as human being. We could also find a lesson that Human beings are not commodities to be dumped or thrown in the street. The right to live is one of the fundamental rights of the human being and the programme answered to it. It was an occasion to become food for the hungry and water for the thirsty and shelter for the abandoned.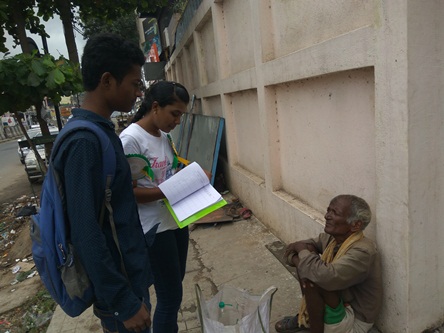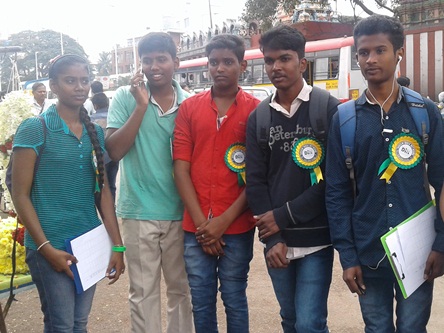 Back