OUR INSPIRATION
Jesus, the Good Shepherd
VISION
Arise to Wholeness
ACTIVITIES OF FIDES
● Awareness sessions
● Counseling
● Skill Training
● Capacity building
● Talks and group sessions
● Seminars
● Family visits
● Exposure visit
● Medical camp
● Prayer meetings
● Net working with other NGOs
● Running of crèche for infants

More+
NEWS & EVENTS
PAST PUPILS MEET FIDES Vocational Training Centre Back
The Past Pupils of FIDES Vocational Training Centre conducted its 2nd annual meet on 7th April, 2013 at Sr. Nancy Memorial Hall, Provincial house, Bangalore. 30 girls responded to our invitation. The meeting began at 2.00 p.m. with the intoning of a hymn invoking the Lord's presence. A passage from the Holy Scripture was read. Ms. Archana, one of the pupils learning tailoring at present, welcomed the gathering. This was followed by a welcome song.

The chief guest, Sr. Mary Manjil FMA, the coordinator for the sponsorship programme of the province, was invited to the stage and was felicitated with a bouquet of flowers. The programme was inaugurated by lighting the lamp by the chief guest and the representatives of the past pupils (around 30 in number). On this occasion we gratefully remembered Sr. Nancy Pereira, the foundress of FIDES, who had started the work for a holistic growth of the families in 1993.

To add color and joy to the day, there were some cultural programmes, which began with a dance followed by some games conducted by the sisters. Sr. Nirmala Joseph FMA, gave an input talk on self-esteem and the importance of accepting oneself, which leads to true happiness. With help of a video clipping, she elucidated the same theme and made them interiorize through an interactive session.

The programme was concluded with a vote of thanks, in which a special thanks was addressed to Sr. Anna Karuvelil, the coordinator of FIDES Vocational Training Centre, for convoking and organizing the day; she thanked also all those, who contributed to made this day a memorable one. Furthermore the presence of many sisters of the community, the staff and the active participation of the past pupils added more joy to the day.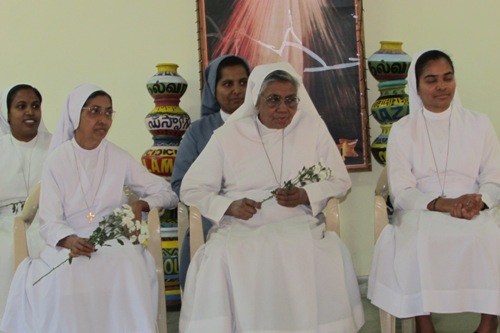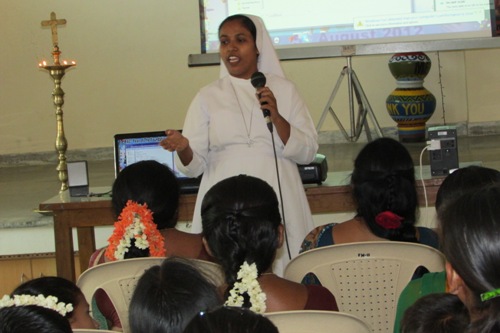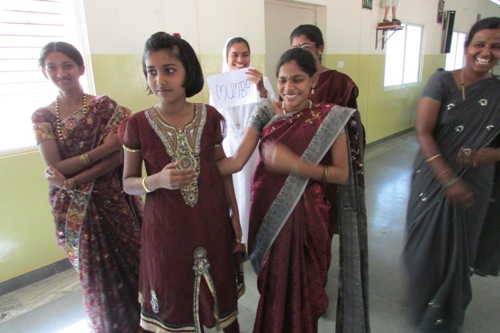 Back