OUR INSPIRATION
Jesus, the Good Shepherd
VISION
Arise to Wholeness
ACTIVITIES OF FIDES
● Awareness sessions
● Counseling
● Skill Training
● Capacity building
● Talks and group sessions
● Seminars
● Family visits
● Exposure visit
● Medical camp
● Prayer meetings
● Net working with other NGOs
● Running of crèche for infants

More+
NEWS & EVENTS
Training Programme for the SHG womenBack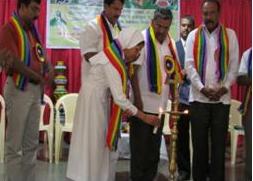 One day training programme was organized for our SHG members by the Co-operative Society Officials on "watershed management".

The programme commenced with a prayer song invoking God's presence. Water is a free gift from God and it is a rare commodity.

In daily life we use water for anything and everything. In Karnataka State there is scarcity of water.

People find difficult to get even Drinking water. So this Training programme was organized to make the people aware of the present situation to save the rain water and use water carefully.

Back