OUR INSPIRATION
Jesus, the Good Shepherd
VISION
Arise to Wholeness
ACTIVITIES OF FIDES
● Awareness sessions
● Counseling
● Skill Training
● Capacity building
● Talks and group sessions
● Seminars
● Family visits
● Exposure visit
● Medical camp
● Prayer meetings
● Net working with other NGOs
● Running of crèche for infants

More+
NEWS & EVENTS
Mentorship programme in the month of December -2017Back

The mentorship programme for the month of December commenced on 3rd December 2017 at FIDES, Avalahalli. The programme started with registration formalities, followed by a session on Psychosocial balancing for positive development. The invocation of the Almighty amidst the gathering gave a good opening for the programme. The resource person and the topic to be discussed were introduced to the participants before the session.

Dr. Jonas Richard holds 17 years of experience in industry, academics research and training life skills education. He is a trainer by passion and academician by profession. His training sessions are highly participative and impactful and much appreciated by the participants for its innovativeness. He is the resource person for the National Level Resource team on Life Skills Education coordinated by Rajiv Gandhi National Institute of Youth Development, under Ministry of youth affairs and sports, Government of India. Currently Dr. Jonas is the Associate professor and Head of the department of Social work in Kristu Jayanti College.

The session focused on many key aspects of psychosocial balancing in life. It discussed on how a person can relate with friends, family, and oneself. Strategies about what is psychosocial balance, why we worry about psychosocial balance, strategies for enhancing the psychosocial balance were amongst the topics discussed. The session consisted of live interactions and clarifying the doubts of the participants. There were many learning takeaways such as; do not compare oneself with another, never put down anybody, and that when we know our self we know our values and we should be happy with our own physical appearance. There was also discussion on the SWOT Analysis (Strength, weakness, opportunity and threats). The session consisted of many informative and moral videos and through this presentation the opinion and ideas of the students were welcomed for sharing. A viewpoint on the charter formation was focused on. It was indicated that you should not let your past dictate who you are, but let it be a lesson for strengthening the person. He also explained the two types of pain in life - the pain of discipline and the pain of regret and indicated that if one wants to be happy in life, one must accept the pain of discipline. He concluded with the message on need to respect parents and the sacrifice they dedicated for the growth of each one.

After the session, instructions were given to the students about the responsibility and cooperation the project expected from the beneficiaries. Few details regarding the upcoming social cause programme was also shared. The programme ended with vote of thanks and refreshment.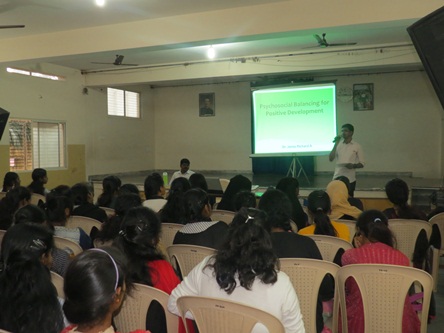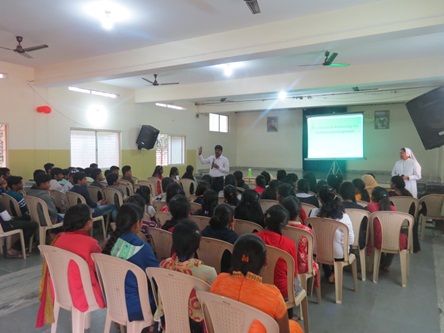 Back