OUR INSPIRATION
Jesus, the Good Shepherd
VISION
Arise to Wholeness
ACTIVITIES OF FIDES
● Awareness sessions
● Counseling
● Skill Training
● Capacity building
● Talks and group sessions
● Seminars
● Family visits
● Exposure visit
● Medical camp
● Prayer meetings
● Net working with other NGOs
● Running of crèche for infants

More+
NEWS & EVENTS
Free Eye camp in Kaverinagar Back

FIDES conducted a free health camp on 28thFebruary with the support of globe eye hospital, Hoskote. The main motive or objective of the eye camp was to treat avoidable blindness like cataract and provide better vision to the low eye sight people. The services are not always confided to the camp but after the camp regular treatment is rendered to those who are in need. Globe foundation on a regular basis conducts eye camp for the community and does free surgeries and caters to the after needs of those assessed patients.

A team of 14 members along with the doctor had done free checkup for nearly 46 members residing in and around Kaverinagar. The patients who were under gone the surgery of eye previous month, assisted to get a follow up treatment. At the end, the lunch was provided for the organizers and eight patients who were going for surgery.

The eye camp was of great favour to the community as it helped them to treat and check their eyes free, this facility has benefited many members of the community regardless of age. The senior citizens of the community who always had trouble travelling distance was able to check their eyes at the door step. Many senior citizens took part in this eye camp and were a blessing to many.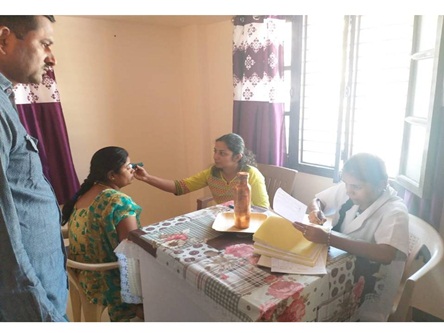 Back