OUR INSPIRATION
Jesus, the Good Shepherd
VISION
Arise to Wholeness
ACTIVITIES OF FIDES
● Awareness sessions
● Counseling
● Skill Training
● Capacity building
● Talks and group sessions
● Seminars
● Family visits
● Exposure visit
● Medical camp
● Prayer meetings
● Net working with other NGOs
● Running of crèche for infants

More+
NEWS & EVENTS
Report of career guidance session for the scholarship childrenBack

On 13th August 2017, a session on Career guidance was organized for the scholarship student at Avalahalli under the leadership of Dream India and FIDES organization as part of students programme by the two eminent resource persons, Ms. Geetha Ramamurthy, the co-founder and CEO of GiGa Innovation Center that creates entrepreneur ecosystem designed to nurture entrepreneurs, education, mentoring and advise to funding to start up and growth stage companies, and Mr. Avinash Cheluvaraja, the Managing Partner of 8t's Group in Bangalore. There were 153 students for the programme. On the same day, few scholarship checks were distributed to the students.

The session covered the areas like introduction and orientation, introduction to self-branding, generate career options, various paths to career, activity related to career counseling and review and feedback. This session was designed to help students to relate and better utilize their learning in future sessions to design their future career path. The sessions helped the students to clarify their doubts and to enhance the interest in achieving great positions in the life. The session was helpful for the participants to make good decisions and to analyze once own future.

The session also included different activities to show the value of hard work, leadership and achievement. Moreover, the session also led the participants to give a thought to planning, team work, to be a visionary, time management, execution and vulnerability. It was a platform for the participants to clear their doubts and confusions regarding their career. Students asked many doubts and it was clarified by the resource team. Group discussions and sharing the experience of the students benefited to get more information about the session and life choices.

There was also an evaluation session. In the evaluation, the students expressed their opinion and suggestion that the session was more informative and hoping for many more sessions of the same nature. The session was concluded with vote of thanks for everyone. After the session some directions and guidelines were given to the students regarding the perception that one should have on the scholarship programme. The students were asked to clear all their documents and account details as soon as possible to move further. The programme came to an end with the distributing the food for all the participants.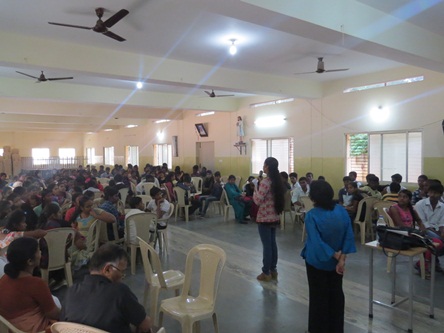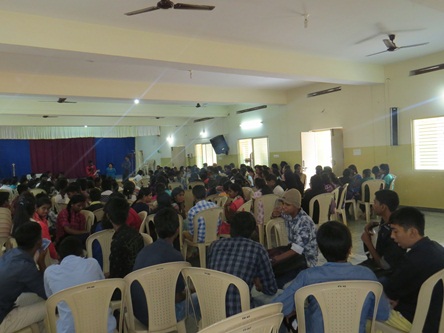 Back