OUR INSPIRATION
Jesus, the Good Shepherd
VISION
Arise to Wholeness
ACTIVITIES OF FIDES
● Awareness sessions
● Counseling
● Skill Training
● Capacity building
● Talks and group sessions
● Seminars
● Family visits
● Exposure visit
● Medical camp
● Prayer meetings
● Net working with other NGOs
● Running of crèche for infants

More+
NEWS & EVENTS
Death Anniversary of Sr. Nancy - 2017Back

Sr. Nancy's death anniversary was remembered and celebrated by the devotees of Sr. Nancy on 15-07-2017 at FIDES. It was a time for the beneficiaries to remember the good works done by Sr. Nancy for the up-liftment of the poor.

There was a prayer session led by Mr. Samuel and other staff which deeply touched the memories of people regarding Sr. Nancy and Her works. It was an occasion to remember and to share the experiences and miracles happened through the intercession to Sr. Nancy. Many witnesses came forward to express their own experiences and miracles happened in their own lives.

After the prayer session the people moved towards the graveyard to get the graces from Sr. Nancy. As a token of love and concern experienced from Sr. Nancy, a beneficiary came forward to provide the food for the people. On this occasion of the death anniversary, the people whole heartedly expressed that she was another Mother Teresa.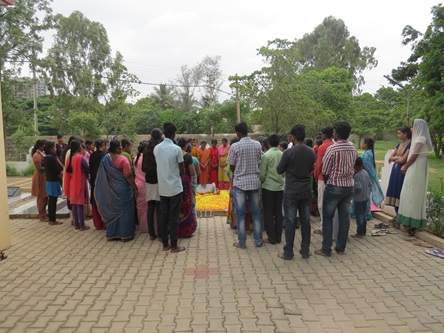 Back